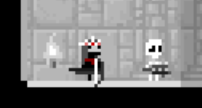 Weapons are a primary means of dealing damage in Red Rogue. Normal weapons can be sorted into three categories: Melee, Throwing, and Ranged. The player and minion are able to have both a melee and throwing weapon, unless using a ranged weapon. The player, minion, and some monsters are able to equip weapons.
Melee Weapons
[
]
These weapons are only for close combat.
Gauntlet (Metal Glove)
Mace (Spiked Stick)
Sword (Long Blade)
Whip (Tapered Leather Cord)
Staff (Long Stick)
Hammer (Punctuated Stick)
Scythe (Gardening Tool)
Throwing Weapons
[
]
These weapons can both be used for close and ranged combat. Note that thrown weapons can be caught, and are also able to be picked up after use.
Knife (Short Blade)
Dagger (Medium Blade)
Spear (Pointed Stick)
Ranged Weapons
[
]
These do not allow you to equip a throwing weapon at the same time as they require both hands to wield. However, these weapons can be used for both melee and ranged combat.
Short Bow (Fires Arrows)
Arbalest (Large Crossbow, Fires Bolts)
Arquebus (Rifle, Fires Bullets)
Long Bow (Fires Large Arrows)
Gun Blade (Long Blade, Fires Bullets)
Special Weapons
[
]
Some weapons hold unique effects:
Chakram (Sharp Ring): Throwing weapon; bounces off walls
Bomb (Explosive Grenade): Throwing weapon; explodes upon impact in a diamond wave; injures everyone in its explosion radius
Chaos Wand (Magic Stick): Ranged weapon, does no damage but will cast a random enchantment upon target
Lightning (Electric Stick): Melee and ranged weapon, radiates lightning as in quickening to injure nearby enemies when thrown
Leech (Blood Demon): Melee and throwing weapon; cursed at first and will replace owner's main weapon; life steal
Gun Leech (Crafted Blood Demon): Melee and ranged weapon; life steal; fires blood bullets; can only be found in Overworld chest
Cog (?): Melee and throwing weapon, unknown effects; can only be found in Overworld chest
Harpoon (Flat Top Spear): Melee and throwing weapon; anybody can land on a harpoon when it is thrown and ride on it; it will bounce off of walls; can only be found in Overworld Chest
Death's Scythe: A special scythe owned by the Reaper; found only in the Underworld; inherently enchanted with level 20 Undead; starts at level 20; holds same attributes as regular scythe; rare chance to be cursed when stolen from the Reaper; see Guides for information on how to acquire Death's Scythe
Weapon Table
[
]
Note:
Range:

M: melee
T: thrown
R: ranged

Items are listed in the order they appear in the in-game lore menu.
For the True Names of weapons, see True Name.
| Weapon | Description | Special | Range | Damage | Attack | Knockback | Stun | Hearts |
| --- | --- | --- | --- | --- | --- | --- | --- | --- |
| Knife | Short Blade | | MT | 0.15 + 0.05 * LVL | 0.01 + 0.01 * LVL | | | +10% |
| Gauntlet | Metal Glove | | M | 0.2 + 0.05 * LVL | 0.01 + 0.01 * LVL | 0.1 | 0.1 | |
| Dagger | Medium Blade | | MT | 0.25 + 0.05 * LVL | 0.02 + 0.01 * LVL | | | +10% |
| Mace | Spiked Stick | | M | 0.4 + 0.1 * LVL | 0.02 + 0.01 * LVL | 0.15 | 0.15 | |
| Short Bow | Fires Arrows | | R | 0.2 + 0.1 * LVL | 0.03 + 0.01 * LVL | | | |
| Whip | Tapered Leather Cord | | M | 0.5 + 0.1 * LVL | 0.02 + 0.02 * LVL | | | |
| Sword | Long Blade | | M | 0.7 + 0.1 * LVL | 0.03 + 0.02 * LVL | 0.1 | | +5% |
| Arbalest | Large Crossbow, Fires Bolts | | R | 0.7 + 0.15 * LVL | 0.02 + 0.02 * LVL | 0.15 | 0.1 | |
| Spear | Pointed Stick | | MT | 0.9 + 0.05 * LVL | 0.03 + 0.02 * LVL | 0.15 | | +1% |
| Chakram | Sharp Ring | Bounces off walls. | MT | 0.7 + 0.15 * LVL | 0.03 + 0.02 * LVL | | | |
| Staff | Long Stick | | M | 1 + 0.15 * LVL | 0.04 + 0.03 * LVL | 0.15 | 0.15 | |
| Bomb | Explosive Grenade | Explodes | T | 2 + 0.02 * LVL | 0.02 + 0.02 * LVL | 0.5 | 0.6 | |
| Arquebus | Rifle, Fires Bullets | | R | 1 + 0.16 * LVL | 0.04 + 0.03 * LVL | 0.2 | 0.2 | |
| Hammer | Punctuated Stick | | M | 1.3 + 0.17 * LVL | 0.05 + 0.03 * LVL | 0.2 | 0.2 | |
| Long Bow | Fires Large Arrows | | R | 1.3 + 0.17 * LVL | 0.05 + 0.04 * LVL | 0.2 | 0.2 | |
| Gun Blade | Long Blade, Fires Bullets | | MR | 1.3 + 0.17 * LVL | 0.05 + 0.04 * LVL | 0.2 | 0.2 | 5% |
| Scythe | Gardening Tool | | M | 1.5 + 0.2 * LVL | 0.06 + 0.04 * LVL | 0.2 | 0.2 | 5% |
| Chaos Wand | Magic Stick | Shoots Chaos Runes | R | | | | | |
| Lightning | Electric Stick | Emits Quickening | MT | 2 + 0.3 * LVL | 0.08 + 0.06 * LVL | 0.2 | 0.3 | |
| Leech | Blood Demon | Life Steal | MT | 2.5 + 0.4 * LVL | 0.08 + 0.06 * LVL | | 0.3 | +15% |
| Gun Leech | | Life Steal, Shoots Projectiles | MR | 2.5 + 0.4 * LVL | 0.08 + 0.06 * LVL | 0 | 0.3 | +15% |
| Cog | | | MT | | | | | |
| Harpoon | Flat Top Spear | Free Ride | MT | 0.9 + 0.15 * LVL | 0.03 + 0.02 * LVL | 0.15 | 0 | +1% |